Why buy a Home Inspection Franchise?
Why Choose A Home Inspection Franchise Over Other Types Of Franchises?
Deciding what type of franchise to purchase is a big decision. Maybe you never thought being a home inspector was an option because you don't have a background in construction, and maybe you just pictured yourself behind the counter at a physical store or in an office selling goods or services and managing a team of people. We think that if you take the time to read the information on this site you will learn that anyone can become a successful home inspector and that there are many advantages to investing in a home inspection franchise. The statistics do not lie, business owners that invest in franchise systems are more likely to stay in business and make more money then business owners that try it on their own.
So if you are going to buy a franchise what type is the right choice for you? Although there is no one right answer to this question most would agree that being a successful business owner, who makes a good income, while at the same time has a great work life balance would be a major criteria to consider when selecting a franchise. From here I would suggest you consider that if you choose to invest in a franchise because they are less likely to fail, then you should consider what type of franchises are most likely to fail and why? The three major headaches and business killers are start-up costs, rent, and managing employees. I know this from person experience as a business owner and from the many books I have read on the subject.
Industry Overview
The home inspection industry began to take form in the 1960's and has been growing ever since. The growth and success of the home inspection industry goes hand in hand with the real estate and construction industry making it a very stable and lucrative field to work in. As we all know both real estate and construction have been booming in Canada since the 2008 recession and so has the home inspection industry. In Canada the home inspection industry is not yet fully regulated which offers home inspectors with both challenges and opportunities. Currently, there are several governing bodies home inspectors can join, and in order to be certified and insured you must be a member. The home inspection industry is made up of a mix of independence home inspection businesses and franchise home inspection businesses. Franchise businesses offer prospective clients an increased sense of safety and quality and have been grown in popularity over the past decade. The future outlook for the home inspection industry is very bright.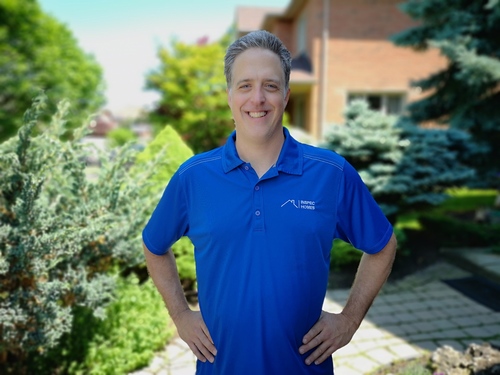 How to become a Home Inspector
Every home inspector needs to start by completing the Carson dunlop (or equivalent) home inspection training program. This consists of 10 courses that will take anywhere from 2 to 12 months depending on if you do them full time or part time. After you complete your home inspection course you need to join a governing body like InterNACHI or OAHI. After joining you will need to complete another test that will test the combined knowledge of the ten courses you took through Carson Dunlop (or equivalent). Once this has been completed you need to submit your certificates from InterNachi or OAHI, and Carson Dunlop program to our home inspection insurance provider inorder to obtain insurance. You will also need to create a sole proprietorship or corporation.
If you purchase an Inspec Homes franchise the next step would be purchasing your home inspection software and tools. From there you would start to be trained on how to use the report writing software, how to perform home inspections, how to market yourself, and create your Inspec Homes account and profile on our web application. Inspec Homes will also provide assistance with how to register your corporation and execute your franchise agreement. After all this you will finally be ready to be a home inspector.
The truth is trying to become a home inspector takes a lot of hard work, just like anything worth doing. You can do this on your own, but we believe that the value you get working with the Inspec Homes team will lead to a faster transition to becoming a home inspector. You will make less mistakes, have lower overhead costs associated with creating your own website and brand, and a better retirement plan. All these advantages ultimately mean more money in your pocket at the end of the day.
Inspec Homes has reimaged the home inspection process from start to finish. By utilizing the latest in technology we are able to offer more service and functionality for a lower cost than using traditional methods. We offer more online tools to our home inspectors and their clients then any one home inspector can provide on their own
What Are The Advantages Of A Home Inspection Franchise Over Other Types Of Franchises
Start up costs for a Home Inspection franchise are much lower than a traditional brick and mortar franchise. With a home inspection franchise you are paying for your home inspector courses, training, software, and tools. Compared to paying for training, inventory,equipment, and renting and renovating a space.
Ongoing costs are also much less with a home inspection franchise. Home inspectors pay to have insurance, membership fee's with a home inspection governing body, travel, tool maintenance, and a franchise royalty fee. Compare that to a traditional brick and mortar franchise where you have to pay rent, which can easily be over $10,000 per month, then there is all the typical costs of having a physical location like, insurance, tech and communication, payroll, utilities, and the list goes on. One of the best reasons to buy a home inspection franchise is that it is a simple business model. You typically work from a home office so all the costs that you already pay for your home like computer, internet, utilities all stay the same but you now get to write a portion of them off.
The last reason a home inspection franchise is better than a traditional brick and mortar franchise is that you are your own boss and your only employee. Managing people, dealing with HR, payroll, absenteeism, training, and turnover are the most frustrating and challenging part of owning your own business. This is a huge advantage when it comes to owning a home inspection franchise you only have to rely on yourself. You set your own hours and take vacation when you want, and when your business is closed you don't have to worry about what is happening. Often brick and mortar franchises have hours 7 days a week and even when you're not there you need to worry about your business.
A final note on home inspection franchises is that prospective franchisees often think that the only way to make huge profits is to run a team of people and generate millions of dollars of revenue. It's true that if you have hundreds of thousands to invest in a large franchise you may be able to make more money but it will be harder to start and harder to make that money. Also, specially because Inspec Homes is a new innovative and fast growing business there will be lots of opportunity to grow within the business should you have that desire. We are also looking to have our home inspection franchisees become master home inspectors, and train new inspectors, and eventually manage a team of home inspectors.